Sadhguru

Sannidhi

Sangha
Sadhguru Sannidhi Sangha is a special program to establish Sadhguru Sannidhi in one's home and transform it into a powerful space for inner transformation.
Next online program: 19 Nov 2023.
Is Sadhguru really as bad as some people have portrayed him?
Sadhguru Sannidhi Sangha
A Space of Grace
A special program to receive Sadhguru Sannidhi.
Tamra Sannidhi (Online Program): 19 Nov 2023
Learn More:
How the Sadhguru Sannidhi Can Enhance One's Life
kolam
Sadhguru Sannidhi Sangha is a special program to receive Sadhguru Sannidhi and learn the powerful Sannidhi Guru Pooja process.
Sannidhi is a consecrated form designed by Sadhguru, which creates an opportunity to always be in the Presence of the Master.
If maintained with a certain discipline, the Sannidhi has a miraculous impact on the inner and external wellbeing of all who come within its sphere, thus extending the spiritual possibility to everyone around that space.
Sannidhi Sangha Program Details:
Who can register for the Sadhguru Sannidhi Sangha?
Anyone who is seeking inner wellbeing and wishes to establish Sadhguru Sannidhi, a powerful energy space at their home can register for the program.
When do we have to do the Sannidhi Guru Pooja?
Sannidhi Guru Pooja must be done every Monday, Amavasya (New Moon) and Purnima (Full Moon) during Sadhguru Presence time (6:15 PM – 6:40 PM).
In case Monday is not convenient due to office timings or other unavoidable circumstances, the Sannidhi Guru Pooja can be done on the preceding Sunday.
Sadhguru will consecrate the Yogeshwar Linga, at Sadhguru Sannidhi
Is the program available in languages other than English?
No, the program will only be conducted in English.
Will Sadhguru be conducting the program?
No, the program will be conducted by a Sannidhi Ishanga.
Is Sadhguru really as bad as some people have portrayed him?
Sannidhi Sangha Sadhana Space
How to create the Sannidhi Space?
It is best to keep a separate room or a dedicated space for the Sannidhi where you can do your morning Sadhana as well.
If there are space constraints, you can create a Sannidhi space in your living room or reception, provided there is no eating, drinking or sleeping within 10 feet of the Sannidhi.
If one cannot meet these conditions, you can create a small Sannidhi shrine, like an enclosure with a partition. Other instructions will be provided in detail during the program.
Can I do my other Yoga practices in Sannidhi space?
Yes. It is beneficial for you and others to do practices in the powerful Sannidhi space.
What do we do when moving homes or offices?
Only move your Sannidhi when it is absolutely needed. Before placing it in your new home or office, please decide beforehand where you want it to be kept.
Still have questions?
Contact Us
Email ID : sannidhi.me@ishafoundation.org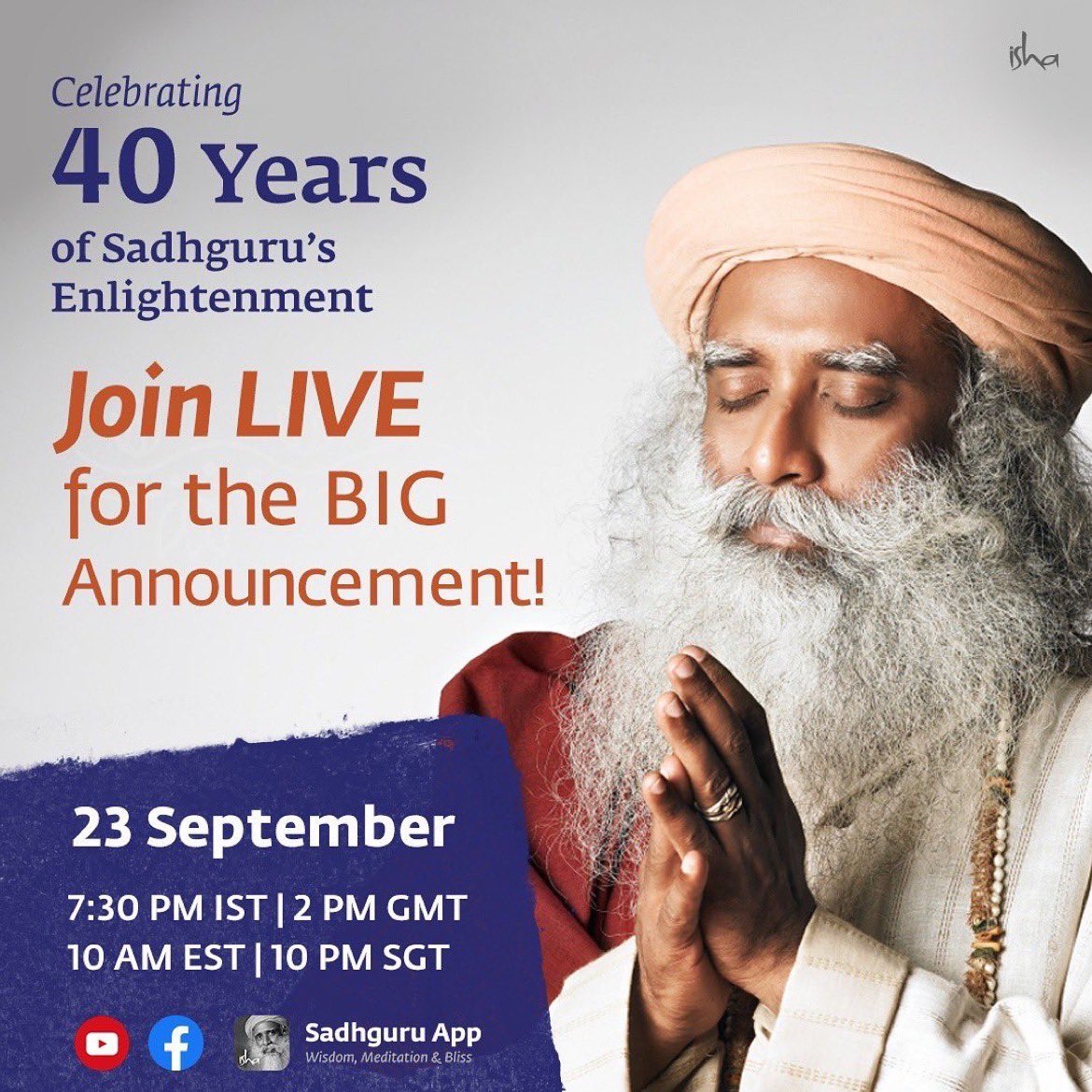 Sadhguru will be making a BIG announcement in the upcoming LIVEstream on 23 September. Join LIVE to Celebrate 40 years of Sadhguru's enlightenment and discover what's coming up. Join live: http://sadhguru.co/Enlightenment