Kuwait City, 11th December 2020:
MoH announced pre-registration service for the COVID-19 vaccine, iiQ8
---
Official Spokesperson of the Ministry of Health: The launch of the electronic pre-registration service for the COVID-19 vaccination Online registration link:
Register for COVID-19 Vaccine in Kuwait. How to register online for COVID-19 Vaccines , Online Booking for COVID-19 Vaccine
---
COVID-19 VACCINE REGISTRATION
---
Required Information as below :
CIVIL ID Information:
Civil ID   – Serial No – Passport No
Basic Demographic Information :
Patient Name Gender – Nationality Date of Birth – District Block Street – House No – Mobile No. – Confirm Mobile No. – Email ID
Education Level :
Primary School & Below – Secondary School – Graduate & Above
Occupation :
HCW
Frontline – Interior Ministry
Frontline – Defence Ministry
Frontline – National Guards
Frontline – Fire Services
Essential worker (Super market,Airport & Borders,Service industry)
High density living conditions (Prison,Hostels ,Nursing home)
Others
Risk Group:
Chest Disease/Asthma Heart disease / high blood pressure
Active Cancer Bone marrow/Organ transplant
Immunodeficiency disease Poorly controlled HIV/Aids
Diabetes Chronic Kidney/Liver diseases
Prolonged use of steroids or immunity-lowering medication Chronic hematological diseases
Obesity None
Exclusion Criteria:
Severe allergic reaction to food / medication Pregnancy
Currently unwell due to infection
I hereby declare that all the information registered by me are correct.
Copyright ©2019 Ministry of Health- Kuwait. All Rights Reserved
---
English website Link: https://cov19vaccine.moh.gov.kw/SPCMS/CVD_19_Vaccine_Registration.aspx
OR
Arabic Website Link : https://cov19vaccine.moh.gov.kw/SPCMS/CVD_19_Vaccine_RegistrationAr.aspx
المتحدث الرسمي لوزارة الصحة: تدشين خدمة التسجيل الالكتروني المسبق لتطعيم كوفيد-19 رابط التسجيل الإلكتروني: اللغة العربية
---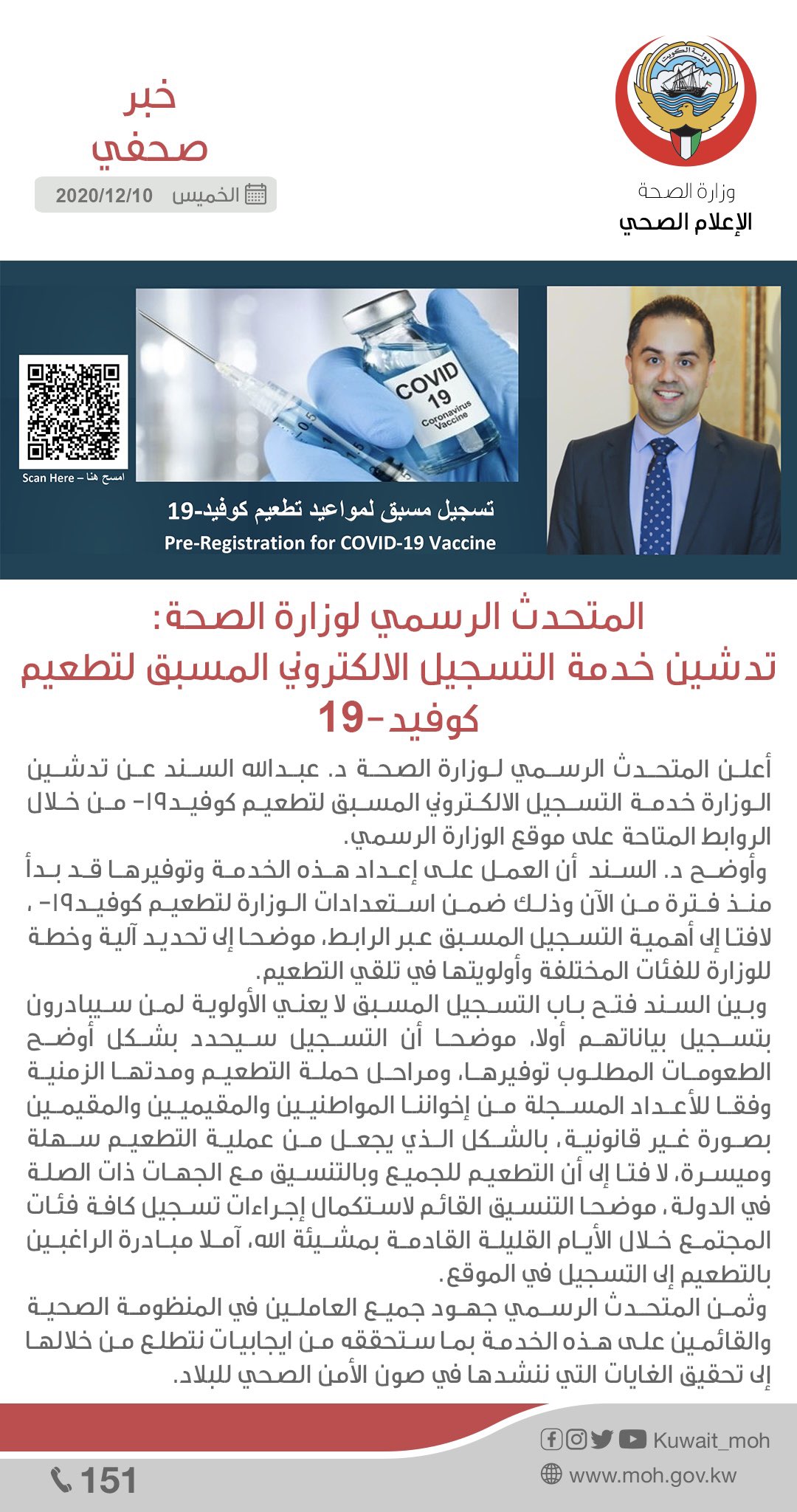 ---
تسجيل لقاح COVID-19
بيانات البطاقة المدنية
البطاقة المدنية
الرقم التسلسلي
رقم جواز السفر
البيانات الديموغرافية
اسم المراجع
الجنس
الجنسية
تاريخ الميلاد
المنطقة
القطعة
الشارع
رقم المنزل
رقم الهاتف النقال
تأكيد رقم الهاتف النقال
البريد الالكتروني
مستوى التعليم
اختيار مرحلة التعليم
متوسط وأقل
ثانوي/تطبيقي
جامعي ومافوق
المهنة
اختيار المهنة
طاقم طبي
الخط الأمامي – وزارة الداخلية
الخط الأمامي – وزارة الدفاع
الخط الأمامي – الحرس الوطني
الخط الأمامي – قوة الإطفاء
عامل أساسي (الجمعيات، النوافذ الجوية والبرية، قطاع الخدمات)
ظروف معيشية عالية الكثافة(السجون، دور الرعاية الاجتماعية، سكن جماعي)
أخرى
مجموعة المخاطر الصحية
السمنة السرطان النشط
أمراض نقص المناعة مرض السكري
أمراض الكلى أو الكبد المزمنة أمراض الدم المزمنة
أمراض الجهاز التنفسي زراعة نخاع العظام والأعضاء الأخرى
أمراض القلب والدورة الدموية (فشل القلب، ارتفاع ضغط الدم الغير منتظم، الذبحة الصدرية) مرض الإيدز (نقص المناعة المكتسبة الغير معالج)
تناول الكورتيزون والأدوية المثبطة للمناعة لفترة طويلة لا يوجد
فئات الاستبعاد
الحمل حدوث حساسية شديدة بسبب الأكل أو الأدوية
مصاب بمرض معدي*
اقر بأن جميع البيانات التي سجلتها صحيحة .
حقوق النشر © 2019 وزارة الصحة – الكويت. كل الحقوق محفوظة
---
---
Register for Corona Virus Vaccine in Kuwait. How to register online for Corona Virus Vaccines , Online Booking for Corona Virus Vaccine
---
Vaccination for School Students, iiQ8, COVID-19 Vaccine appointment