New Delhi, 29th April 2022:
IndiGo using the indigenous navigation system GAGAN, iiQ8 info
IndiGo became the first airline in Asia to use the indigenously developed satellite-based navigation system GAGAN (GPS Aided GEO Augmented Navigation) during landing.
Now We have our own navigation system – India moving towards self-reliance Thanks to Modi's initiative of #MakeInIndia
The trials were carried out in the presence of the Directorate General of Civil Aviation (DGCA) officials at Kishangarh Airport in Ajmer, Rajasthan with an ATR72 aircraft on Wednesday (April 27) morning.
GAGAN is an Indian Satellite Based Augmentation System (SBAS) jointly developed by Airports Authority of India (AAI) and the Indian Space Research Organisation (ISRO).
It is the first such system developed for India and neighboring countries in the equatorial region. GAGAN System was certified by DGCA in 2015 for Approach with Vertical Guidance (APV 1) and en-route (RNP 0.1) operations. There are only four Space-Based augmentation systems available in the world namely India (GAGAN), US(WAAS) Europe (EGNOS) and Japan (MSAS). GAGAN is the first such system developed for India and neighboring countries in the equatorial region.
Indigo Airlines using its ATR aircraft has flown an Instrument Approach Procedure (IAP) with LPV minima of 250ft, using GAGAN Service.
The tests, at Kishangarh Airport, was performed as part of initial GAGAN LPV flight trials along with DGCA team on- board. After the final approval by DGCA, the procedure will be available for usage of commercial flights.
LPV (Localizer Performance with Vertical Guidance) is a Satellite Based Procedure which has been used by the aircraft for landing purpose at Kishangarh Airport (Rajasthan) on Wednesday.
LPV approaches will make it possible to land at airports not equipped with expensive Instrument Landing 2 Systems, which includes many small regional and local airports.
This is a glorious achievement. #India is the first Nation in Asia-Pacific region to use satnav – more so indigenously developed satellite navigation – to land aircraft.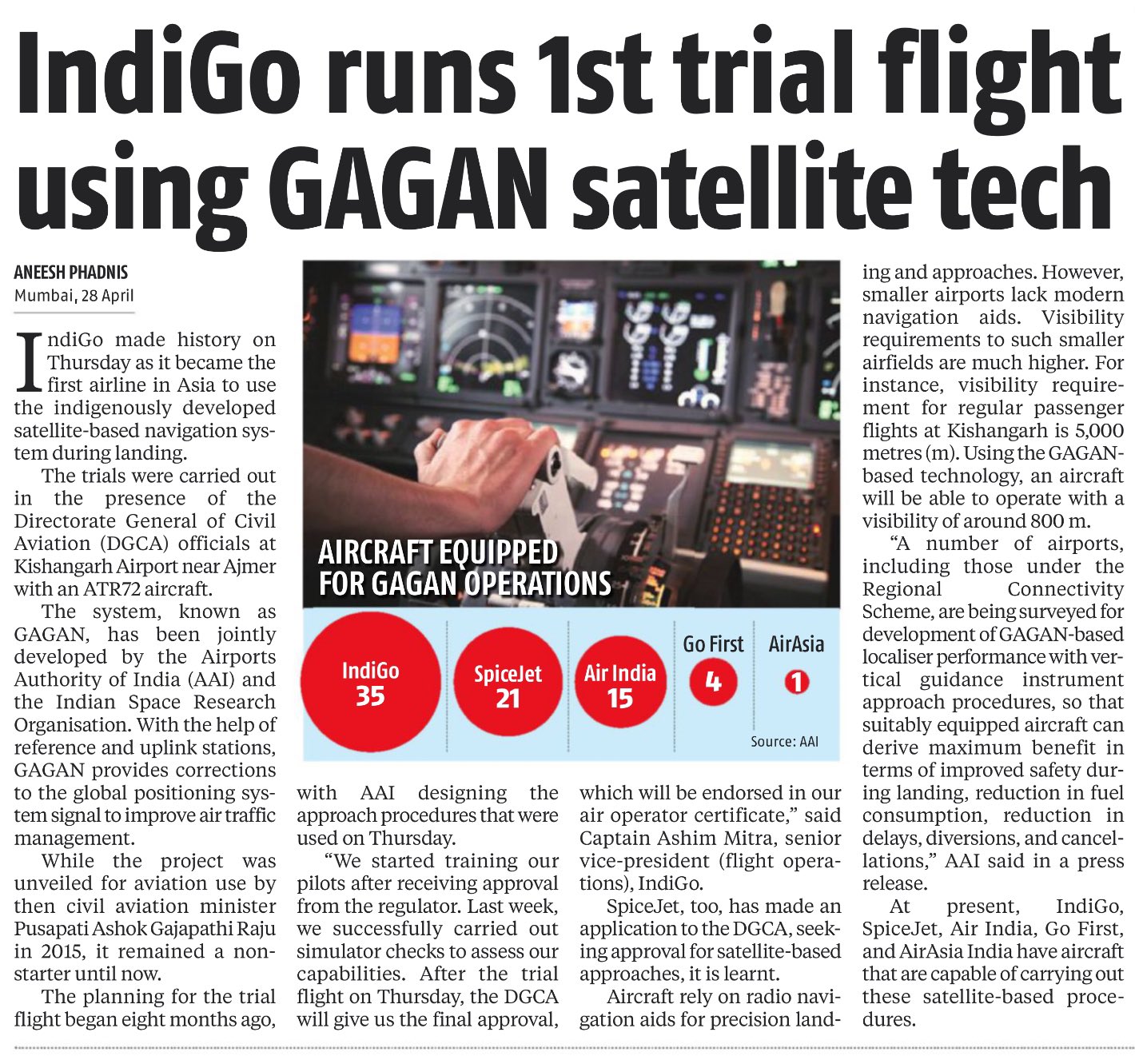 Bollywood Star Ranbir Kapoor-Alia Bhatt Wedding, iiQ8 info
---
Google bans dozens of Muslim prayer apps, iiQ8 info
---
India's first patient of Omicron XE is not serious, iiQ8 info
---
When is Sri Rama Navami?, Ram Navami in India
---
India resumes International Flights after 2 years of gap
iiQ8 News