Kuwait City, 14th August, 2020:
Indian Embassy in Kuwait Updated Advisory on Travel Restrictions Related to COVID-19.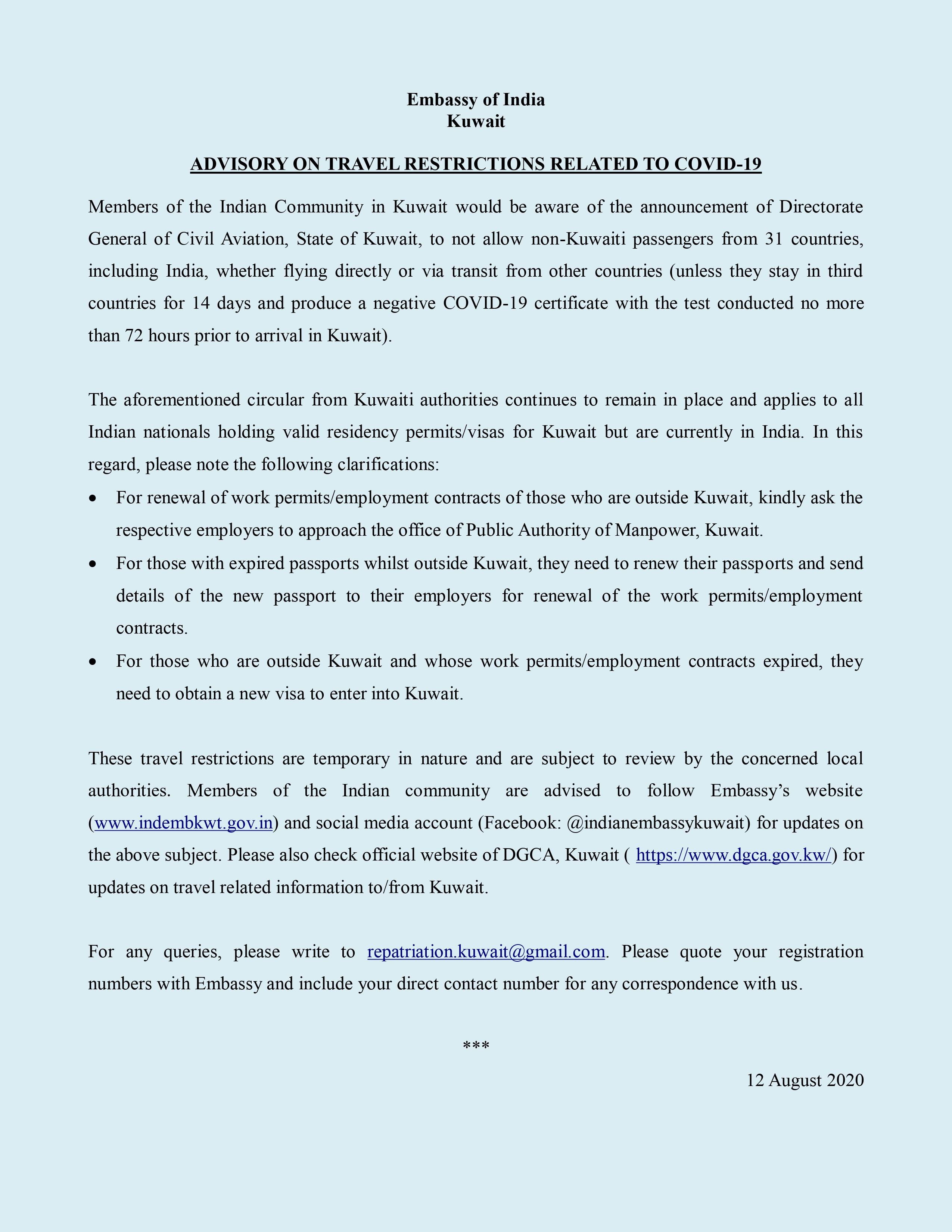 ADVISORY ON TRAVEL RESTRICTIONS RELATED TO COVID-19
Members of the Indian Community in Kuwait would be aware of the announcement of Directorate General of Civil Aviation, State of Kuwait, to not allow non-Kuwaiti passengers from 31 countries, including India, whether flying directly or via transit from other countries (unless they stay in third countries for 14 days and produce a negative COVID-19 certificate with the test conducted no more than 72 hours prior to arrival in Kuwait).
The aforementioned circular from Kuwaiti authorities continues to remain in place and applies to all Indian nationals holding valid residency permits/visas for Kuwait but are currently in India. In this regard, please note the following clarifications:
• For renewal of work permits/employment contracts of those who are outside Kuwait, kindly ask the respective employers to approach the office of Public Authority of Manpower, Kuwait.
• For those with expired passports whilst outside Kuwait, they need to renew their passports and send details of the new passport to their employers for renewal of the work permits/employment contracts.
• For those who are outside Kuwait and whose work permits/employment contracts expired, they need to obtain a new visa to enter into Kuwait.
These travel restrictions are temporary in nature and are subject to review by the concerned local authorities. Members of the Indian community are advised to follow Embassy's website (www.indembkwt.gov.in) and social media account (Facebook: @indianembassykuwait) for updates on the above subject. Please also check official website of DGCA, Kuwait (https://www.dgca.gov.kw/) for updates on travel related information to/from Kuwait.
For any queries, please write to repatriation.kuwait@gmail.com. Please quote your registration numbers with Embassy and include your direct contact number for any correspondence with us.
---
---
---
Indian Departures to increase upto 2500 per day, iiQ8
---