Kuwait City, 8th June 2021:
Free COVID Vaccine for all above 18 Years, iiQ8, Indian PM Modi
PM Modi: Free vaccine for all above 18 years
Delhi: Centre makes crucial announcement on vaccination which is a crucial weapon in the fight against COVID-corona virus. New changes to the recent vaccination method. Prime Minister Narendra Modi has announced that the center will distribute free vaccines to all those who are 21 to 18 years old this month. The center itself will buy the vaccines and give it to the states..
It is clear that the states do not have to spend even a rupee. Prime Minister Narendra Modi addressed the nation on Monday evening as the corona second wave continues in the country.
It is said that the responsibility of Covid vaccination is completely of the center. Prime Minister said he has spoken to CMs several times on vaccination.. He said that many states are questioning Centre on vaccine shortage. They said they will consider the state's opinion on the shortage of vaccines. Modi said in his speech that he had completed vaccination for frontline fighters before the second wave.
Vaccination for 80 percent people by November
′′ From 21th of this month, we will undergo free vaccination process and complete the vaccination for 80 percent of people by November. They will have a chance in private by getting vaccinated at their own expense. 25 % of the vaccines will be available for the private sector. Vaccine can be applied even in private with a maximum of Rs. 150 service charge ′′.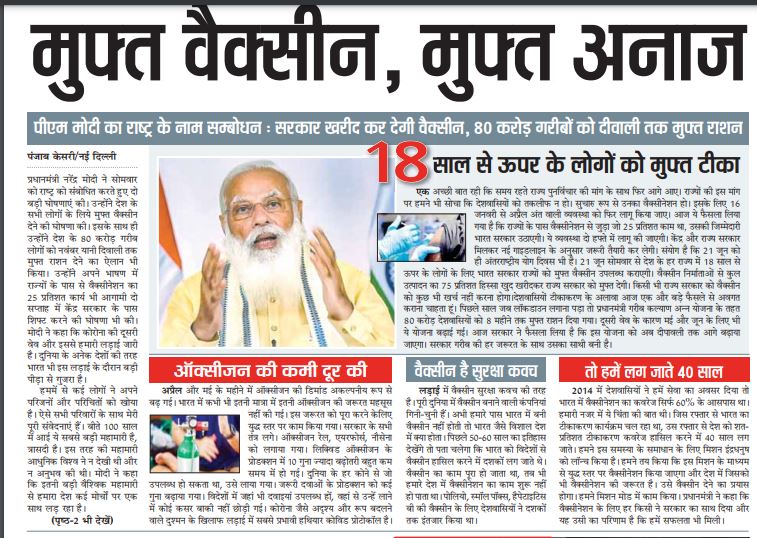 ---
7th June 2021, Kuwait today Corona Update, iiQ8, COVID-19
---
iiQ8 News