Kuwait City, 24th November 2020:
Residency law violators, Temporary automated residency since 1/1/2020 and earlier, iiQ8
---
Residency law violators since 1/1/2020 and earlier dates Holders of temporary automated residency article no. 14.
Residency violators from Jan 1 and prior told to visit Residency Department.
The Interior Ministry has urged residency law violators, from January 1 and prior, to pay the necessary penalties at its Residency Affairs Department, between
December 1-31, in order to renew their residency permit.
Violators wishing to leave the country should pay the resulting penalties to be granted a departure notice, and will afterwards have the opportunity to return to the country, the ministry said in a statement.
Those who do not amend their legal status within the aforementioned period will be deported and barred from entering the country indefinitely, it warned.
Meanwhile, holders of the temporary automated residency (under article number 14 ) must leave the country before a November 30 deadline.
These individuals should settle their legal status before the deadline if opting for the renewal of their permit, in accordance with terms and conditions.
The ministry went on to warn that those found not to have amended their legal status before the November 30 deadline will be found in violation of the Foreigners Residency Act and subject to legal action, facing deportation and an entry ban.
-By KUNA
---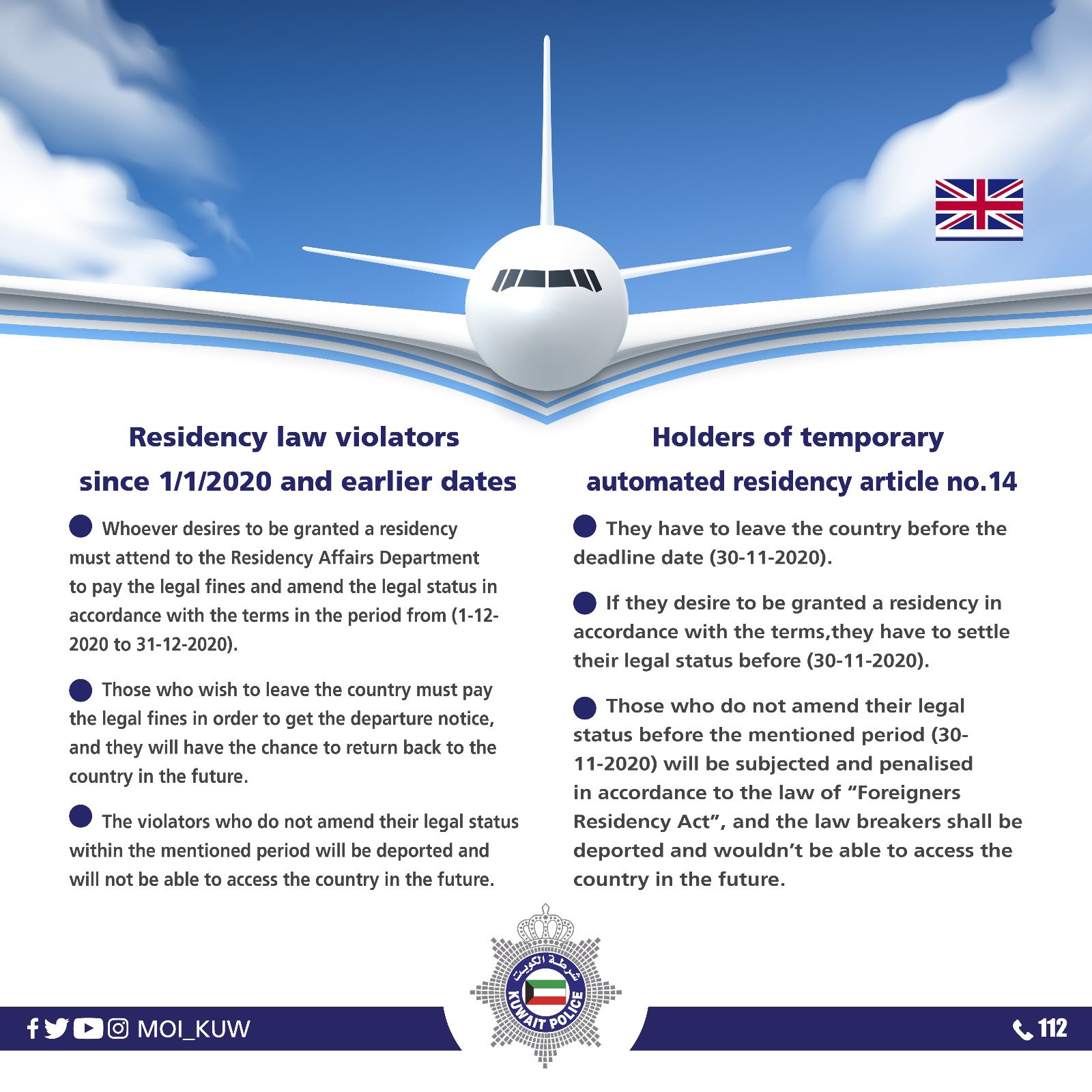 ---
سال 2020/01/01 اور اس سے پہلے اقامہ اور اس سے متعلق قانون کی خلاف ورزی کرنے والوں کیلئے ضروری اطلاع: وہ لوگ جو عارضی اور خود بخود قابل تجدید اقامہ نمبر 14 والے ہیں ان کیلئے اطلاع؛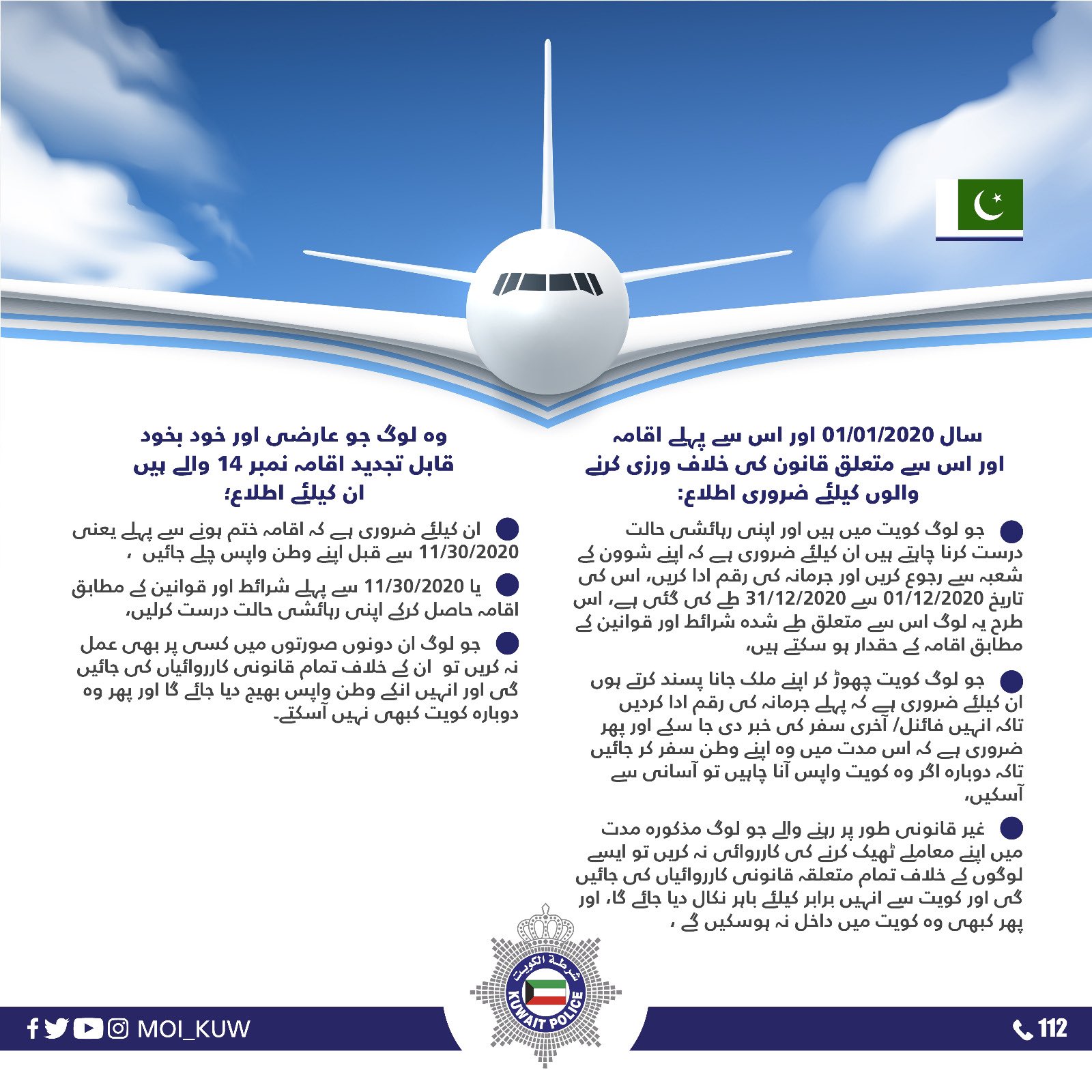 ---
১লা জানুয়ারি ২০২০ সাল অথবা এর পূর্বে যারা অবৈধ হয়েছেন: স্বয়ংক্রিয়ভাবে যাদের একামা নবায়ন হয়েছে ভিসা নং ১৪: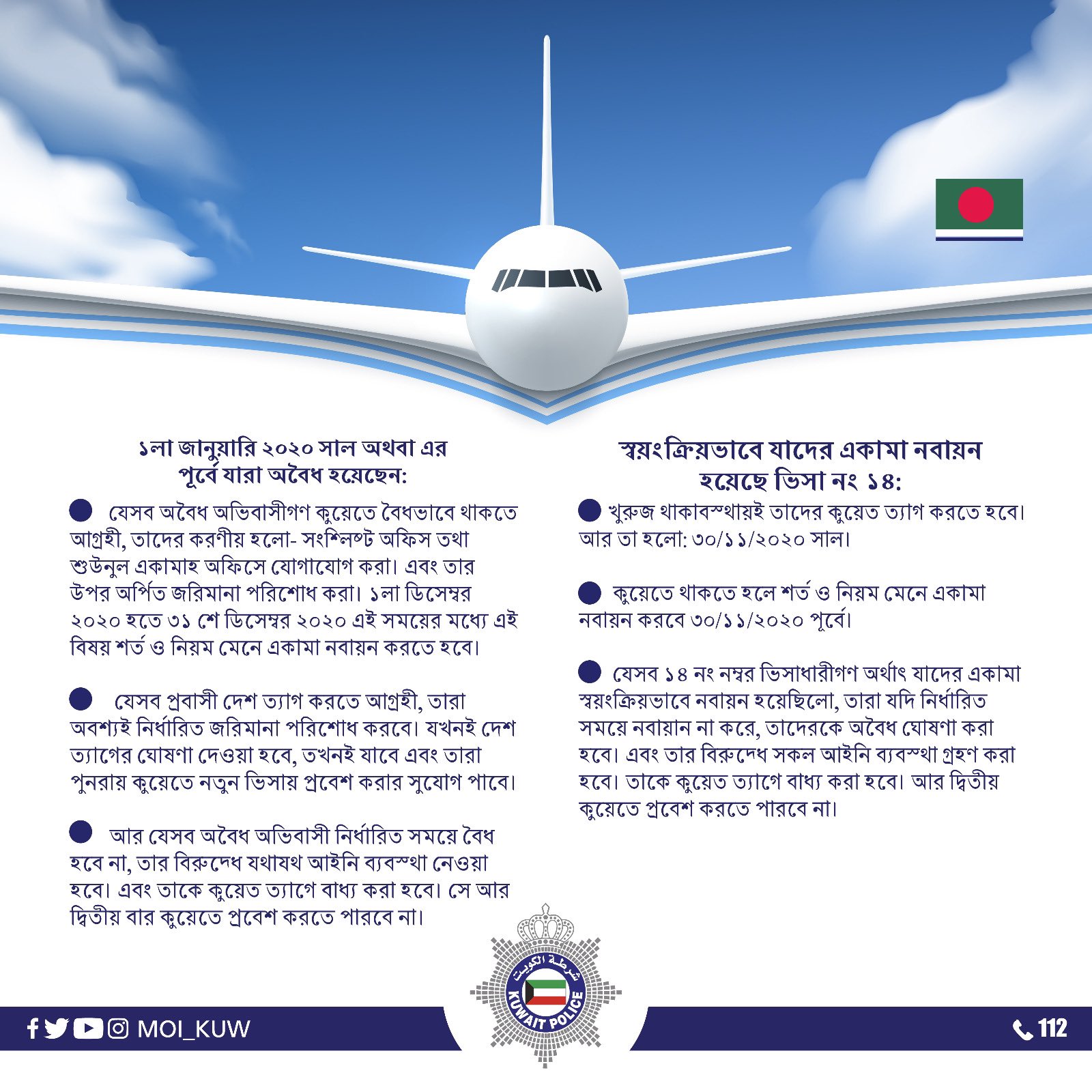 ---
وزارت کشور کویت با صدور اطلاعیه ای اعلام کرد: وزارت کشور کویت در اطلاعیه خود تاکید کرده است: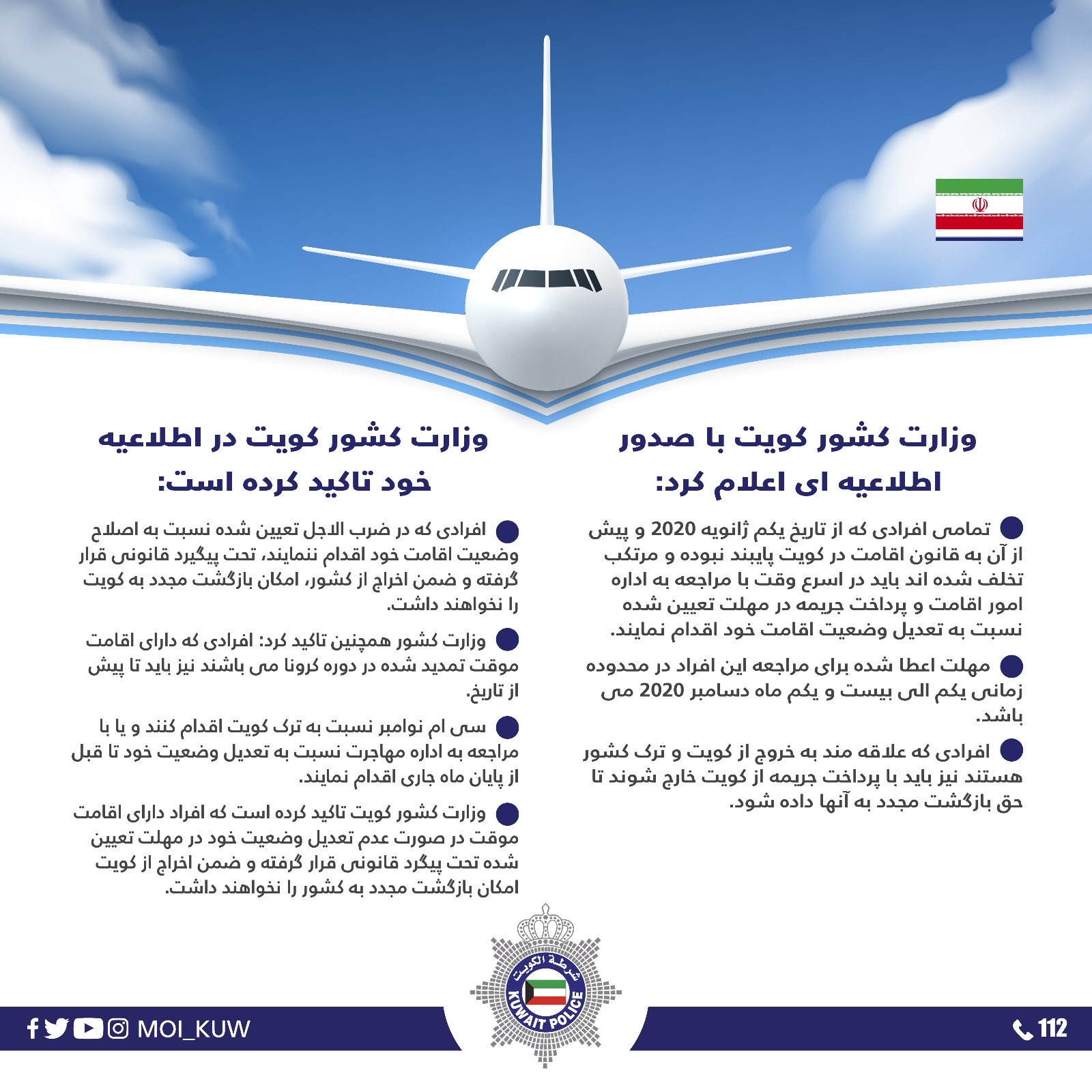 ---
1 जनवरी 2020 और उससे पहले के इक़ामा नियम के उलंघंकर्ता टेम्पोरेरी (अस्थायी) रेजिडेंस होल्डर, अनुच्छेद 14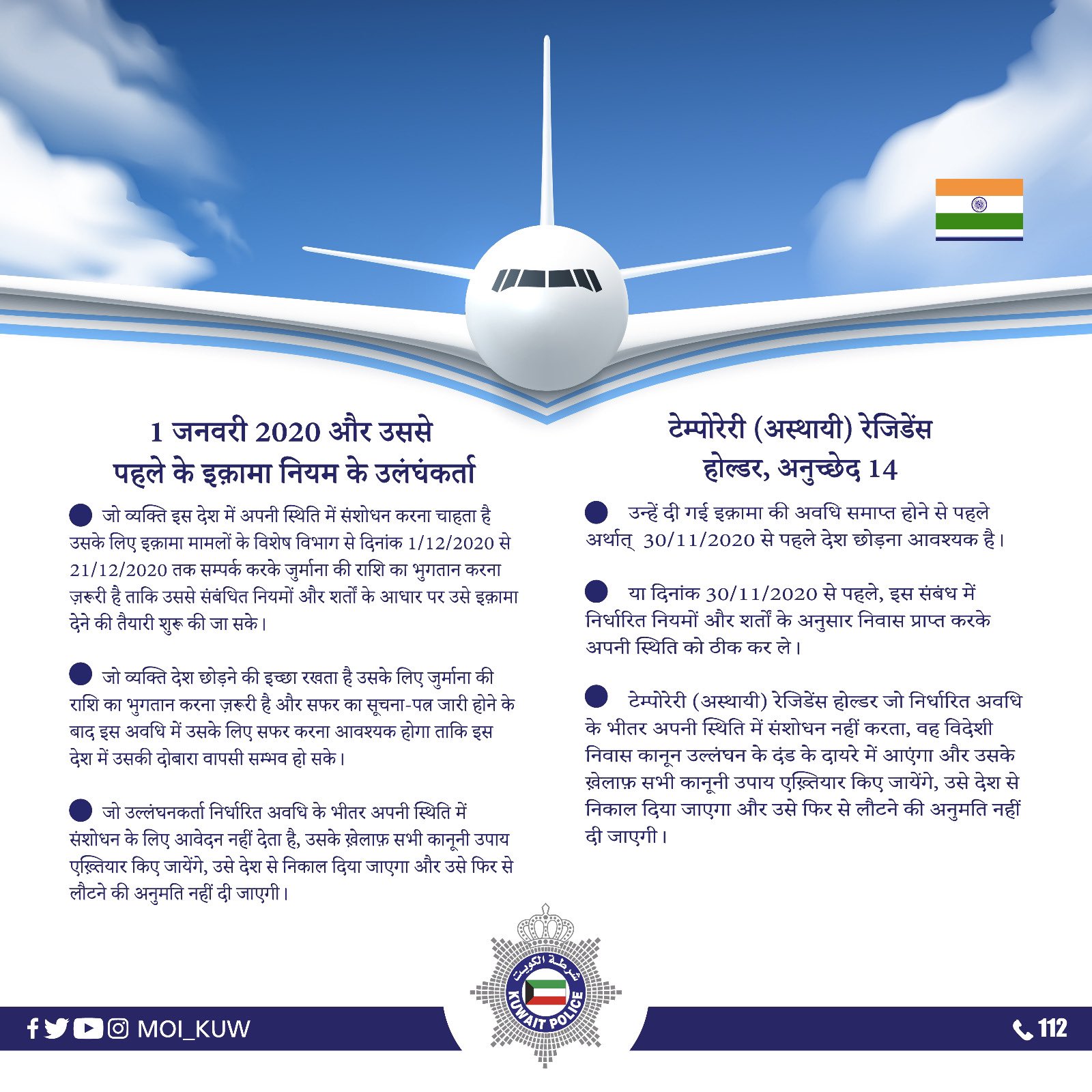 ---
MGA LUMABAG SA BATAS NG PANINIRAHAN NOONG 01/01/2020 AT NAUNA RITO: SA MGA MAY PANSAMANTALANG PAHINTULOT NA MANIRAHAN NA AWTOMATIKONG BINAGO BILANG ARTIKULO (14):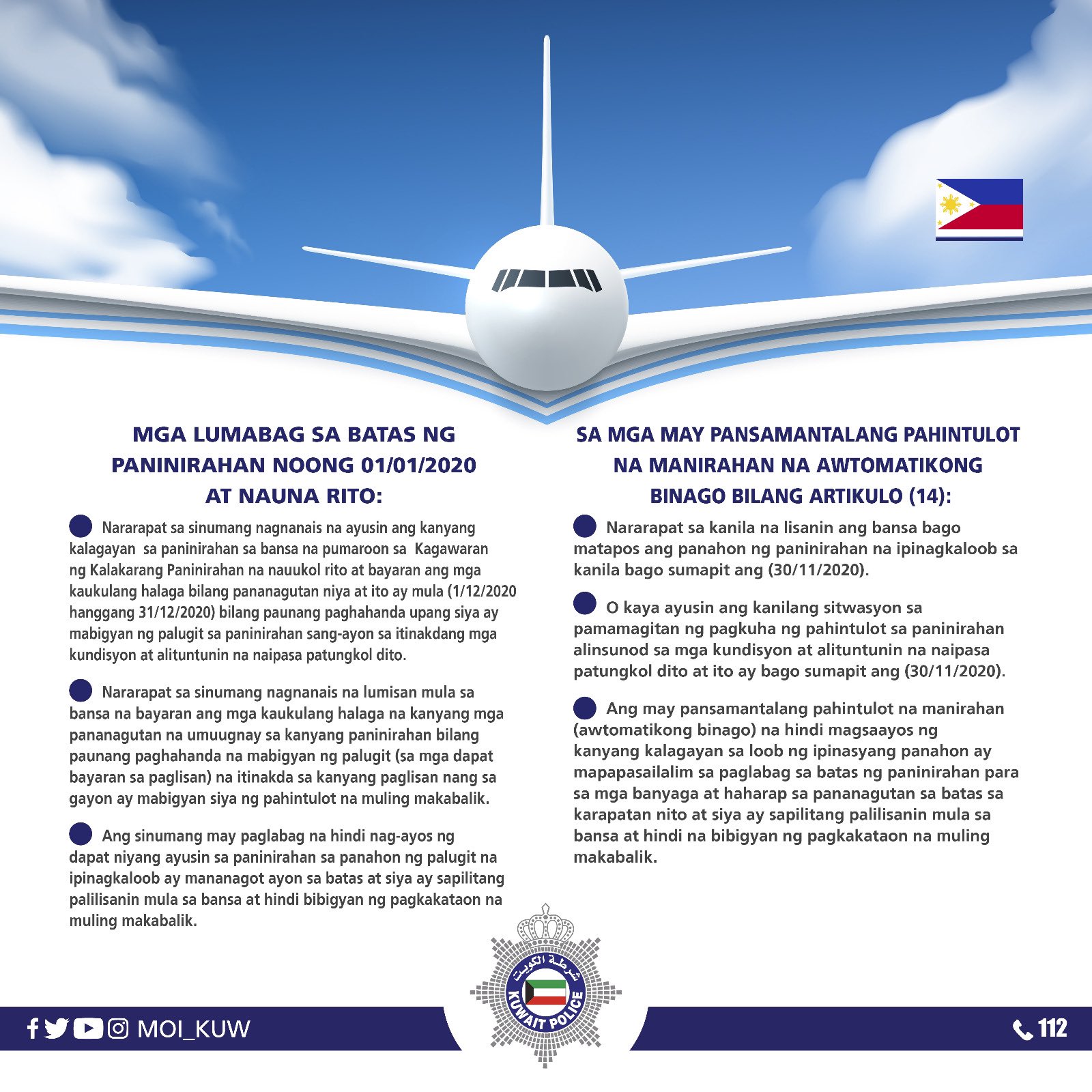 ---
Return of domestics starts from 10th December, iiQ8
---
Return of Domestic Workers travel cost finalized to 350 KD, iiQ8