1. "Best wishes to you and your family for a Holi filled with sweet moments and memories to cherish for long. Happy Holi my dear"
2. "Holi is an apt time to celebrate the colours of our beautiful relationship. Happy Holi"
3. "Let's throw out the colours in the air, and renew our love with a bit of romantic colour. Happy Holi"
4. "This 2023 Holi may bring lots and lots of colourful seasons and days in your life filled with plenty of happiness and love. Wish you a very Happy Holi"5. "It's the time to unwind, de-stress and to make a bond with sweets, thandai and colours. Happy Holi"




6. May God gift you all the colours of life, colours of joy, colours of happiness, colours of friendship, colours of love and all other colours you want to paint your life in.
Happy Holi.
7. Play more, drink less,
enjoy more, think less.
Have a cheerful Holi!
8. Water balloons, water pistols, amazing songs, and delicious gujias are the main ingredients for a perfect Holi.
Have a Happy Holi!
9. Rang ho ya gulaal, maaro pichkari or laa do fuhaar.
Nacho or jhumo, masti se khelo.
Have a colourful and joyous Holi!!




10. Every day needs to be colourful, but seldom it is.
So, stock yourself for a whole year!
Happy Holi!
11. Happy Holi from mine to yours. Hope you have a colourful day and a colourful life with all kind of right twists in the colour.
12. Hope God paints the canvas of your life with beautiful colours.
Happy Holi to you and Family!!
13. Even though I am far away from you on the happy occasion of Holi, all my thoughts and good wishes are with you.
Have a wonderful Holi.
14. Let's make a bonfire of our pride, negativity, and envy this Holi and bring in a fresh start.
Happy Holi!
15. Let's burn what's evil, depressing and sad with Holika and welcome the new beginnings with open arms.
Happy Holi!16. "You are the colour of my life, and you are the reason for my smile. I make the colourful dream just for you. And send you colourful wishes on Holi." ― Happy Holi
17. The grandeur of color and sweetness of sweets; may you have a brilliant Holi!
18. "Holi is the time to celebrate the most beautiful feeling called love. Let's take a dip in the water of love." ― Happy Holi
19. "it's time for masti & lots of colours.
Here's to the fun & Celebrations
that may last throughout the year."




20. Burn your ego, expectations and everything in the fire of Holi and enjoy the festival. Happy Holi!21. Dipped in hues of love and trust has come the festival of Holi.
22. Let the child hidden inside you, come out this Holi & play with the colours of love and happiness all around." ― Happy Holi
23. "Take out the evil from you and digest the colour of peace in yourself this Holi, to spread the colour of love everywhere." ― Happy Holi 2023
24. "Play safe, eat healthily and stay cheerful. This is my wish for you. Happy Holi my dear friend"
25. "Break the ice, renew your old relationships & connect yourself with the colors of joy & happiness forever." ― Happy Holi
26. "Let the colours of Holi bring cheer and happiness to your life.Red gulal being prosperity and yellow being health." – Happy Holi
27. "Neela, peela, hara, gulaabi yeh sab to ek bahaana hain
hame to tumse milne aana hai
Es Holi pe unhe rangne jaana hain..
Dil ne ek baar phir humara kahna mana hain."
28. "We wish your health, prosperity and business achievements at this prismic colour eve.
Happy Holi to you and your family"
29. "Khaa key gujiya,
pee key bhaang,
laaga ke thoda thoda sa rang,
baja ke dholak aur mridang,
khele holi hum tere sang.
HAPPY HOLI"
30. "Sending you wishes in the colors of rainbow.
May they shower love, happiness and joy upon you!"
31. "Thank you for bringing out the best colors in me. Thanks for being my sunshine, dear. Happy Holi, I love you so much."
32. "On this auspicious occasion of Holi, I Hope the canvas of your life gets painted with the cutest colors of happiness." – Happy Holi!33. "Our relationship is the best because I care for you and you care for me. But all credit goes to you for making everything so easy. Thanks for being so reliable and wishing you a happy Holi!"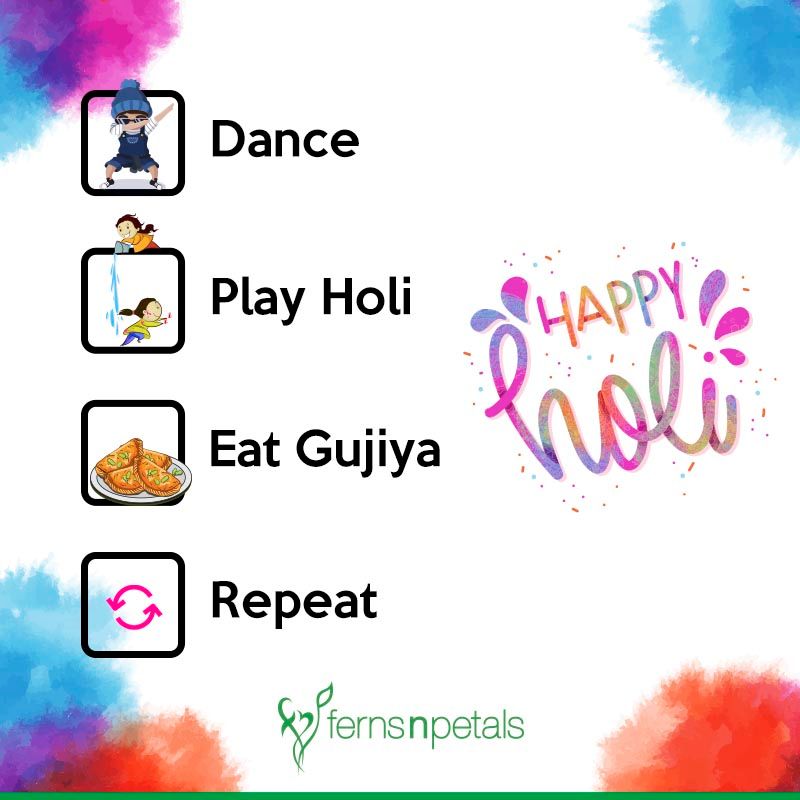 34. "On this beautiful festival of vibrancy and colours,
let's reiterate our commitment to each other
by sharing all the different shades of life.
Happy Holi"
35. "Wishing you and your family success, happiness and prosperity this Holi and always! Have a colourful and joyous Holi!"
36. May God gift you all the colours of life, colours of joy, colours of happiness, colours of friendship, colours of love and all other colours you want to paint your life in.
Happy Holi.
37. Sending love with red, friendship with pink, wisdom with yellow and new beginnings with green.
Have a colorful and happy Holi!
38. So here comes the time to celebrate life with colors and enthusiasm.
Lots of Love.
Enjoy!
Happy Holi!!
39. Gunjiya aur Thandai ki ho bharmar.
Gubbaro aur pichkari ke saath milkar manaye holi,
is tarah ki aaj har dil mein bass pyar ho.
Wishing you a Happy Holi.
Gift Ideas for Holi
40. Faagun ka ye pyara sa tayohaar…
Aap ka jiwan khushiyon or rango
se bhar de…
HOLI ki Shubh Kaamnayein!

41. H – Happiness
O – Opulence
L – Love
I – Integrity
Now that you know the meaning, let me wish you a happy Holi

42. May God gift you all the colors of life,
joy, happiness,
friendship, love
and all other colors you
want to paint in your life.
Happy Holi…

43. I pulled the bright color from the rainbow and sent it to you. I Wish You a very Happy Holi.

44. There are a few moments that Holi has to be celebrated together. So, these memories can be realized later on. These are the memories that I want to live forever. I Wish You a very Happy Holi.

45. I wish this Holi god bless you more smile on your lip, more cheer on your voice, more twinkles on your eye. I Wish You Happy Holi.

46. Holi is the perfect time to improve understanding and love with your family, friend, and love one. You should wish everyone with beautiful Holi wishes.